House hunting with children is rarely a walk in the park. And when you have a little one with Autism Spectrum Disorder (ASD), the process can be even more of a challenge. In addition to finding a home that fits your budget and lifestyle, you'll need to keep your child's sensory needs in mind when searching for a new place to call home. To help you get started, here are six tips for finding the right home for your family and planning a safe and hassle-free moving day.
1) Give your child a heads up. Before beginning your search for a new home, it's important to give your little one some time to process the news and prepare for what's to come. Older kids and teens may need a month or longer to mentally prepare, while younger children may only need a few weeks.
As you prepare for the move, it can also help to visualize the process for your little one. Use a visual schedule to display photos of each step in the process — including house-hunting, packing, cleaning, moving your family's belongings, and unpacking after moving into the new home.
2) Carefully choose a location. In addition to giving your child some time to mentally prepare for the move, it's important to choose a location with access to all the things your child will need to learn, grow, and thrive. These include things like therapy services, good schools, and medical resources for your child. Ultimately, the right location for your family will depend on your child's specific needs.
3) Research. Once you have a few locations in mind, you'll need to do your research. Websites like Redfin allow you to research home prices, schools, and transportation options in your desired locations. Plus, you can view available properties in those areas.
4) Plan for home modifications. After researching housing market trends in your desired areas, it's important to list the different home features your child will need now or in the future. Several sensory-friendly features for children with autism include: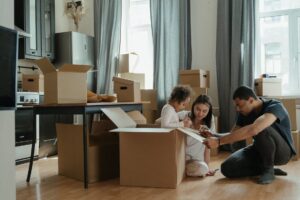 ASD, an occupational therapist can help you to understand your child's specific needs as you prepare to buy a new home.
5) Prepare for the move. As you prepare for moving day, try involving your child in the packing and cleaning as much as possible. This will help your child better understand what's happening around him and mentally prepare him for the transition into his new home. Parents.com offers 15 tips on preparing for the move, keeping your child safe and comfortable on moving day, and helping your little one adjust to his new surroundings.
6) Encourage outdoor play. After you've settled into your new home, you can encourage outdoor play by creating a sensory-friendly backyard space for your child. If you purchase a backyard swing set for your little one, for instance, the smooth swinging motion will help to regulate your child's vestibular system, calm his mind, and improve information processing.
Before purchasing a backyard swing set or similar for your child, it's important to consider the following:
● Swing type
● Frame material
● Customer reviews
● Cost
● Durabilityj
● Attached equipment
7) Enjoy your new home! When you're a parent to a child with special needs such as ASD, house hunting and moving are rarely simple tasks. But by giving your child plenty of time to prepare for the move and involving him in the moving process whenever possible, as well as by providing him with the tools to cope, you'll ensure a smoother transition into your new home.