As a parent of school-age children, you might find yourself falling in one of two camps.
Camp 1) "Take my child now"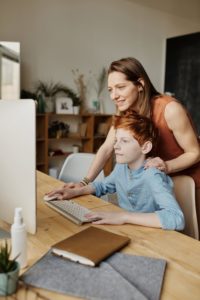 Camp 2) "If we never have to return and complete any more homework, it would be too soon!"
Regardless of which group you fall in, preparing your child for the transition back to school is very important in achieving a smooth adjustment. In light of the coronavirus pandemic, and all the uncertainty and change that this brings to the new school year, this preparation is even more critical.
Let's talk executive functioning. These are the skills that help us to "execute" (see the connection?) tasks and achieve goals. Executive Function skills include: organization, planning ahead, managing time, sustaining attention, inhibiting impulses, controlling emotions, and monitoring/adjusting behavior. If your child has been identified with ADHD, anxiety, high functioning Autism, or a mood disorder, chances are their EF's are not Grade A. Research indicates there is up to a 30% delay in the development of executive functioning in the ADHD population. To save math time, it's equivelent to a 15 year old functioning closer to a 10 year old, 12 year old functioning closer to a 8 year old, and a 9 year old functioning closer to a 6 year old. These weaknesses can cause significant frustration in families when the child has a high potential for being capable, but they mismanage their work.
So, what steps can we take for a smoother transition? Here are a few ideas to start with:
1) Start with a family meeting. Talk and listen to your children about their thoughts on returning to school. What are they excited for? What are they dreading? What do they feel will come easy? Be hard? What is each family member going to commit to for the first semester? Lay out expectations, fears, potential roadblocks, etc., during this collaborative discussion.
2) Make (and keep) a family calendar. This will look different depending on the children's ages. For older children, you can use calendar share on the iphone so that commitments that involve your children will be added to their own calendar on their phone. Walk them through the scheduling process so that they can start to input events themselves. For younger children, have a whiteboard/printed paper in a common area of the home that can show at least a week at a time. Being able to look ahead will strengthen planning and help to avoid outbursts with unexpected appointments/obligations. Additionally, crossing off dates can help children "see" how time is passing as they approach deadlines. Time mapping can also be particularly useful- with shaded blocks of time representing commitments.
3) Take your children shopping with you. Whether this is in-store or online, have them work with you to locate the back-to-school materials they will need and have a say in what binder/folders, etc., they will find most useful. Point out potential cautions/benefits of those systems ("This one has pockets before each section that will be a nice home for loose papers."). Including them in the process helps them take ownership over their materials.
4) Set up a dedicated space for work. Whether this is used for homework or homeschooling/remote-learning purposes, dedicate a work space that can minimize distractions and can hold school materials. Again, involve your child in this process. As the parent, you provide the parameters and the child can make decisions within that fenced in area.
5) Set routines. What time is the child expected to wake up? Go to sleep? How much exercise is agreed upon on each day? When will the family be "tech-free" to connect with each other and build relationships? The routine is about achieving balance.
Take time now to save time in the future. Before you can hand a child a tool, they need to know when/how they need it. Work alongside your children to create these habits and model the skills you're wanting to see in them. Sometimes the smallest step in the right direction ends up being the biggest step of your life. Tip toe if you must, but take the step. – Naeem Callaway